once upon a time, there lived a "lagan" of numbers…
The Wizard of ambiguity blasts into the scene everyone! I am back with fresh apples and lemons for a special desert today. And no John, not sticky toffee pudding this time.
Alright, this will be a brief overview of the 8 fascinating elements of math which I ensure you, we'd never know if not for the tedious moments of our beloved relationships with it. And now, let's hit the launch!
---
#1 
In a room of just 23 people there's a 50% chance that two people have the same birthday. This comes from the commonly known "Birthday Problem". The probability increases analogically with the the number of people in the room (reaching up to 99% with 75).
---
#2
If you shuffle a pack of cards properly, chances are that exact order has never been seen before in the whole history of the universe. Ever thought of holding a typical object that could possibly lead to an exemplary momentous event in the whole universe?! Well, John would say: "Wonders happen, my boy".
---
#3
The most popular FAVORITE number is 7.
Nearly 3000 people, around 10% of the total asked, chose 7 as their favorite number in an online poll by Alex Bellos. The second most popular was 3.
---
#4
7 also shows up a lot in human culture. We have seven deadly sins, and seven wonders of the world. Not to mention colours of the rainbow, pillars of wisdom, seas, dwarves, days in the week…
This might be because when these things came about there were celestial bodies visible in the sky (the Sun, the Moon, Venus, Mercury, Mars, Jupiter and Saturn).
---
#5
111,111,111 × 111,111,111 = 12,345,678,987,654,321 Eh, still remember those good old days, while being a middle school student when I used to enter random numbers in my new Ti calculator, until I suddenly had the chance of being encountered with this UNEXPECTED PHENOMENON.
It also works for smaller numbers: 111 × 111 = 12321.
---
#6
10! seconds is exactly 6 weeks.
10! means 10 factorial. 10! = 10 × 9 × 8 × 7 × 6 × 5 × 4 × 3 × 2 × 1 = 3628800 seconds. Which is 42 days, or 6 weeks, exactly.
---
#7
There's not enough space in the known universe to write out a googolplex on paper.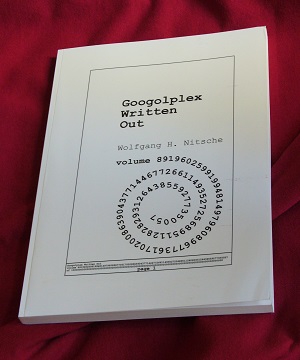 And yes there is a number literally bigger than the number 'googol' (not Google Inc.) itself! It's his big bad brother, "el macho de famosa" for spanish – the Googolplex!
Yet, there turns out to be quite enough problems in terms of visualizing the whole principle, or shall I say… numbrero. According to Carl Sagan in the original Cosmos series. A googolplex is 10 to the power of a googol, or 10 to the power of 10 to the power of 100.
This website will write it out for you (or start… it won't ever finish because your computer won't have enough memory).
---
#8
Take any four digit number, follow these steps, and you'll end up with 6174. Ok… let's rock this with some FROSTING!
1. Choose a four digit number (the only condition is that it has at least two different digits).
2. Arrange the digits of the four digit number in descending then ascending order.
3. Subtract the smaller number from the bigger one.
4. Repeat.
Eventually you'll end up at 6174, which is known as Kaprekar's constant. If you then repeat the process you'll just keep getting 6174 over and over again.
---
thanks for reading!